Jul 22 2010
Buffer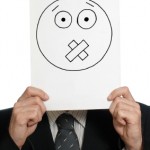 Clark Harris (aka @SilentClark ) was only speaking using social media for the month of May in an effort to raise awareness and money for the Leukemia and Lymphoma Society in memory of his mother.  June 1, he decided to continue the campaign, having fallen short of his goal of raising $100,000, using only social media to speak.  He will finally end the silence on August 7.  He has written some wonderful reflections on voice in his blog. I interviewed him here because of his insights, and also so that you can be aware of this campaign, and help him out. Please read on, and visit his blog , or follow him on Twitter.
Why silence your voice instead of raise it?

@SilentClark: I felt that silence would have a larger impact because it is the opposite of what people expect of you when spreading to spread a message.
You remarked, " I concluded that social media, with its globe-spanning reach, could not extend to the same few feet as the human voice." What do you think it is about the human voice that creates so much impact?
@SilentClark: The voice is a completely pure form of communication. Words on paper can be a very personal form of communication, but to hear the voice of the writer adds a greater impact to them. The voice is more soothing as well when consoling another.
On your blog, you talk about daily "biggest ups, biggest downs and most entertaining experiences." Was there a "biggest up" and/or "most entertaining" to listening to others' voices?

@SilentClark: It is most entertaining to see the way friends who I have known for a long time, interact with me. At parties especially, they know it is difficult for me to respond, so they say more statements and less questions. This is an unnatural way of speaking, so it leads to interesting topics that they might not have shared before.
What was the "biggest down" to not being able to speak?
@SilentClark: Missing the opportunity to share my thoughts on a regular basis. The Delay Factor in social media  makes it impossible to keep in tune with the rhythm of a spoken conservation between several people. I just have to accept defeat and know those thoughts will go unheard.
Did your silence affect your listening, and if so, how?
@SilentClark: My silence has caused me to change roles with people such as my wife in our communication dynamics. Before I was the talker and she was the listener for the most part. Now, through necessity, it is the other way around. I've been told I'm a good listener when people have something serious to share, but in the day to day interactions I did most of the talking. Now I can sit back and pay closer attention, knowing there is little pressure for me to comment or respond.
If you want to know more about The Social Media Experiment, please visit Clark's web pages.  In the final hours,  he is offering a chance to win an iPad, so there's even more reason to learn more.
Leave a Reply