Sep 25 2018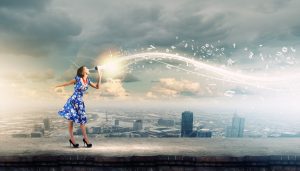 For the past 10 years, I have been writing Kate's Voice and been honored with a growing, loyal following and recognition by groups such as Global Gurus, as well as many individuals who I respect and admire. I've enjoyed the ride.  This year, the decision was made to expand the Vocal Impact coaching practice and create a new website for the company, which has taken some time. Hence, I haven't posted in a while. We moved the blog, too, though you will notice that it is still here.
"But it's no use now," thought poor Alice, "to pretend to be two people! Why, there's hardly enough of me left to make one respectable person!" —Chapter 1, Down the Rabbit-Hole.
On the new site, the blog's name is K8sVoice, a catchy title if I do say so myself. Please visit our new website and take a look at our new platform. So, though I shall not pretend to be two people, gradually I will transform this blog into one with a more artistic focus and keep a business focus for the other.
"The best way to explain it is to do it." —Chapter 3, A Caucus-Race and a Long Tale
There is a new post on K8sVoice focused on authenticity and intention.
"Begin at the beginning," the King said, very gravely, "and go on till you come to the end: then stop." —Chapter 12, Alice's Evidence
Thanks for following this blog and let the (new) adventure begin!